June Bradshaw Old Memorial Fund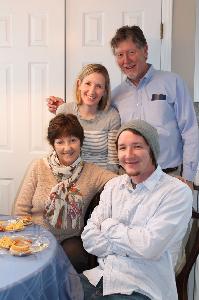 Team Fundraising Goal: $1,000.00
Total Number of Gifts: 11
Total Value of Gifts: $925.00
Please bookmark this page.
Recent Donors
Ann Marie Nawrocki
Diane and Jimmy Ferebee
Wayne and Marie Old and Family
Rick and Linda Lloyd
Trisha Murtaugh
Karen and Bill Powers
Rita and Larry Simpson
Laura Ross Loehr
Eric Teagarden
Matthew & Laurie Converse

Full Donor List
June Bradshaw Old

Goal:

$1,000.00

Achieved:

$925.00
June Bradshaw Old passed away on Friday, April 17, 2015 in her home in Chapel Hill, NC, surrounded by her family, after a long battle with cancer. In 2006, she was diagnosed with breast cancer, underwent surgery, chemo and radiation, and subsequently went into remission. In 2011, she was diagnosed with Stage IV colon cancer and was given a life expectancy of 24 months. She was not a surgical candidate and, instead, underwent grueling chemo treatments every 2 weeks for the next 3 1/2 years. She bravely defied the odds against her and was able to be a daily part of her beloved grandson's life. Her main joys in life were providing for the well-being and happiness of her family and friends. Some of her favorite things included planting her flowers and going to the beach. She is survived by her loving husband, Dr. F. Paul Old, Jr, her 2 children, Sarah Old Simpson and Forrest P. Old III, and her grandson, Benjamin Liam Simpson. She touched so many lives throughout her life and will be forever deeply missed.
Obituary
June Bradshaw Old, 62, formerly of Moyock, NC, passed away Friday, April 17, 2015 in Chapel Hill, NC.
Born in Franklin, she was the daughter of the late Willie and Shirley Bradshaw and was also predeceased by her father-in-law, Forrest P. Old, Sr. June managed Currituck Internal Medicine in Moyock, NC for 17 years. She will be remembered as a loving and devoted mother and grandmother, known as "Honnah", whose greatest joy was her children's happiness and wellbeing.
Survivors include her husband, Dr. F. Paul Old, Jr.; children, Sarah Old Simpson and husband Michael, Forrest P. Old, III; a grandson, Benjamin Liam Simpson; a sister, Laverne Bradshaw Lee; a brother, Jerry Lynn Bradshaw and wife Julia; her mother-in-law, Anne Old; a sister-in-law, Joy Old Young and husband Tom; a brother-in-law, Michael J. Old and wife Tommie; nephews, Jon Lee and wife Becca, Michael Lee, Jason Lee and wife Rose, Matthew Bradshaw and Justin Bradshaw; nieces, Ashley George and husband Bryan and Alison Garter and husband Churchill; great-nephews, Jay Lee, Will and Jackson Garter; great-nieces, Wynsten Lee, Madison, Morgan and Lainey George.
The funeral service will be conducted at 2:00 p.m., Wednesday April 22, 2015 at Moyock Baptist Church, 123 Oak St., Moyock, NC. Rev. Vic Ramsey will officiate. The interment will follow in Chesapeake Memorial Gardens. The family will receive friends from 6:00 to 8:00 p.m., Tuesday at the Great Bridge Chapel of Oman Funeral Home & Crematory, 653 Cedar Rd, Chesapeake, VA 23322.

---
If you think this page contains objectionable content, please inform the system administrator.