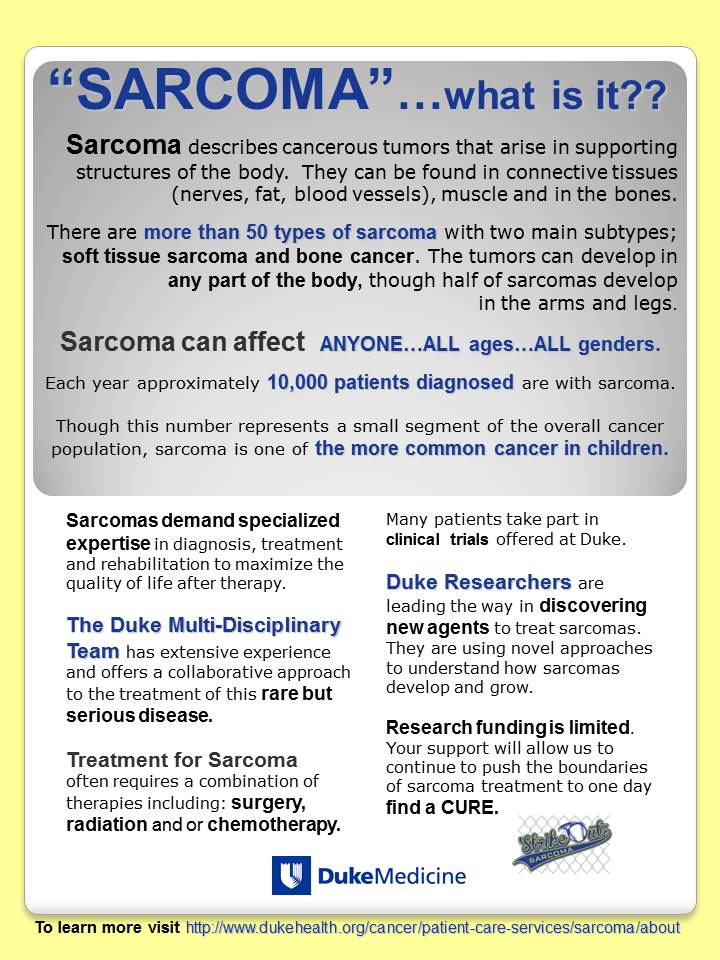 Entry Fees
Run/Walk Pre-Registration: $30
Run/Walk Race Day Registration: $40
Kid Dash: $10
**Entry Fee includes Technical T-shirt for adults, 5K timing chips and post-race refreshments. Children will receive cotton t-shirts and finisher prize.
Packet Pickup
Runners will have the choice of picking up their packet prior to the race or morning of the race. More information on pre-race day packet pick up location and logistics.
5K Course Location
WakeMed Soccer Park
201 Soccer Park Drive
Cary, NC 27511
Post- Race Celebration
We invite you to join us for post-race refreshments and family fun. There will be a silent auction, kid's corner with games, crafts and a bounce house, dunk tank for a chance to "Dunk a Doctor" and much more!
A survivor walk and an awards ceremony will be held as soon as scoring result are available the morning of the race.
100 Yard Kids Dash
Children under 12 years old can participate in the 7th Annual "Strike Out for Sarcoma Kids Dash."
Team Awards
Awards will be given to the teams with the most participants, most donations raised and most creative team T-shirt.
Silent Auction
Our silent auction will be sure to grab your attention! Bring along your CASH/CHECKS for chances to win great auction items! Past years' items included great vacations, arts and crafts, popular event/attractions tickets, restaurant gift certificates, golf and spa packages, electronics, autographed Coach K/Duke basketball gifts and so much more! All auction proceeds will go to benefiting the Duke Sarcoma Research Fund.
Have an Auction Item to Donate? Please contact Sherry Malthouse-Dufore at 919-668-5477 or malth001@mc.duke.edu
FAQs
If I am running the 5K, but I also want to walk in the Family Fun Walk, do I have to register for both? No, you need to only register for the 5K; then join the families for the walk.
Do I have to be a member of a team to attend the event?
No. Team and individual participants are welcome!
I signed up as an individual, but now I want to join a team. Can I do that, and if so, how?Yes. Please contact us (amy.tingen@duke.edu) and provide your full name and the team you would like to join. Your information will be adjusted.
Does the registration cost count toward a team's total?Yes, as long as you provide a team name. Even though out of the $30 for registration, $10 is considered an entry fee and $20 is considered a charitable donation, the full amount is credited to the team total.
Can I register at the event? Yes, you may register at the event, but the amount for same day registration is $40. It will save time if you register online.
What are the important deadlines for the event?
Online registration will close at 11:59 pm on Wednesday, Septemeber 7, 2016. You can still register onsite morning of the event.
Can I bring a dog to the event?
Yes! Please have your dog on a leash at all times at the event. The Town of Cary requires you leash your dog at the event location. Please note, dogs are not allowed on the 5k course during the 5k timed run. They are welcome on the course during the Family Fun Walk though.
Can someone run the 5K with a wheelchair or a stroller?
We do not advise having either on the 5K course during the timed run, although both are welcome during the Family Fun Walk.
Can I walk the 5K?
Yes, although we ask you start the race approximately 5-10 minutes after the timed runners start the race. The Family Fun Walk is also available for anyone to participate in for free, but please note the walk is approximately a mile, not a 5K.
How long does it take to complete the Family Fun Walk?
On average, it takes 15-20 minutes to walk.
How long does the closing ceremony last?
Approximately 15 minutes.
What if it rains?
The Strike Out Sarcoma 5K and Family Fun Walk will go on rain or shine.