Let's Duke It Out
As many of you know, our world was turned on it's axis on February 19,2012. What we thought was a stroke turned out to be a stage 3 anaplastic astrocytoma. In true Bruce fashion, Robert kicked butt in surgery on March 5, 2012. 75-80% of the tumor was removed, Robert completed 33 days of radiation and is now on two types of chemotherapy. He takes Temodar for 5 days out of every 28 days. Additionally, he goes to Duke every 2 weeks for an IV Avastin drip. Currently, Avastin is not standard protocol for brain tumors but his oncologist and recent research at Duke is proving that it works wonders.  
If you know Robert, you know that he doesn't take things lying down. Always doing things in his own unique way. In addition to the non-conventional treatment of Avastin, he is also regularly getting accupuncture treatments, medical message, takes Turkey Tail tea capsules (standard cancer treatment in China), drinks Red Reishi tea (standard cancer treatment in China), and prays daily. He's a fighter.
Currently, brain cancer makes up 1.4% of all cancers. Thousands of people are affected by this disease yearly. Duke currently sees 750 new adult and 120 new pediatric brian tumor cases a year. Brain cancer is unique in that if it originates in the brain, it will not spread to any other area of the body. It is also unique because there isn't a cure and it doesn't go into remission. Once you have a tumor you will live the rest of your life doing various treatments. Fortunately, they were able to catch the cancer so early on that Robert has a huge chance to live a long life.
We couldn't fight this battle without Duke, the Preston Robert Tisch Brain Tumor Center, and all of you. The Angels Amoung Us run/walk raises awareness and research funds but also allows us to have a little fun for a day, I invite you to join us on April 20 for the run/walk.Team check-in begins at 9:00 followed by the walk at 10:30. If you can't make it to the Angels Among Us event, please help us raise funds by making a charitable contribution. Every little bit helps to get us to our team goal of $2,000. Thank you for all you have done as you continue to support us in many ways through this time of need.
Team walk info:
We are overwhelmed by all the love and support that you have shown our family for this event. We are so honored and blessed to have all of you in our lives. We plan to have approximately 65 people walking with us on April 20th. Amazing! 
Please plan to arrive for the walk at 9:00 so there will be plenty of time to hand out team t-shirts, pick-up your Angels Among Us shirt, check-in for the walk at the "Walk Registration" tent and enjoy the fellowship. Our team photo is scheduled for 9:50. Please be sure to arrive before 9:35 so there is plenty of time for us to all walk to the photo area together and get situated. Robert will be walking with the survivors at 10:30 and the walk itself will begin immediately afterwards. Following the walk, there will be the closing ceremony as well as lunch. 
Parking for the event is available at the corner of Erwin Road and Flowers Drive on the Duke Medical Center campus. Below is a map to guide you to the site of the Angels Among Us 5K and Family Fun Walk. You may also print driving directions(pdf).
For GPS Directions 
GPS address  -  330 Trent Drive / Durham, NC 27710
Parking
Parking is available in three separate areas surrounding the Angels Among Us event site. 
1.  Parking Deck II is located on Trent Drive adjacent to the Duke Clinic. The Deck will have all five decks open to Angels' participants; free of charge.
2.  The Parking Lot above and adjacent to the Angels' site is located at the corner of Erwin Road and Anderson Street. (enter from Anderson Street) 
3.  Handicap parking is available at the corner of Erwin Road and Flowers Drive (enter on Flowers Drive).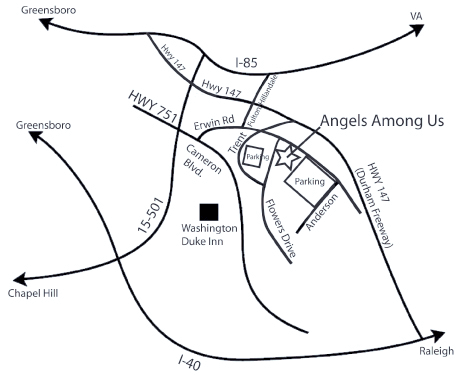 Please let me know if you have any questions. We look forward to seeing you on April 20th.