$2,015,618.00
Raised for 2013 Angels Among Us
Thanks to all our Teams, Participants, Patients & Angel Families and Staff. Without "YOU" this would not be possible!!!
2013 Angels event pictures, visit
Online Donations Remain Open Year Round
Check out the "Team Fundraising Guide" and "Participant Guide" for valuable information. Even individuals will benefit from these guides.
Team Fundraising Guide...this guide will provide you with the necessary information to help you organize a fundraising team.
Participant Guide...this guide will provide you with the necessary information to help you set-up your online Team and/or Participant Fundraising Page.
IMPORTANT: in order to receive pertinent team captain information and updates, email your team name, contact information and who your team is in honor/memory of, to angelsamongus@dm.duke.edu.
---
At Duke There is Hope Because
We Believe...
We believe in the healing power of hope.
We honor the human spirit during times of wellness, illness, and the end of life.
We value family as defined by the patient.
We believe patients and families are empowered when offered information and the tools to make informed choices.
We take pride in professionalism through collaboration, communication, trust, and respect for one another.
We acknowledge that brilliant medicine and thoughtful care come from a team approach and collective responsibility.
We believe that through scientific innovations, we will develop better therapies, improve quality of life, and achieve a cure.
---
.

2013 Goal: $1,800,000.00

Achieved: $2,006,517.76

Current Registrations: 4,558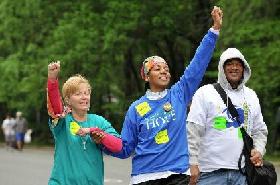 News & Updates...
Please have checks made payable to: Duke University - 13BT.
Duke University is a 501(c)(3) organization
Duke Federal ID Number 56-053-2129
UP COMING TEAM FUNDRAISERS
2014...
Send us your fundraising event details so we can post the date here.