About Us
Angels Among Us is a celebration of life, strength, courage and commitment. The first event in 1994, $27,000 was raised; in 2017, over $2 million! Since its inception, all money raised at the event supports research and finding a cure for brain tumors at the Preston Robert Tisch Brain Tumor Center at Duke. The event has a family friendly focus, with a chance to have fun while giving back.
Angels is held on the Medical Campus of Duke University beginning with a certified 5K run through the Duke campus, and a Family Fun Walk pass the Duke Cancer Institute and through the beautiful Sarah P. Duke Gardens. The Angels festivities include fun activities and prizes for kids, local mascots, silent auction, awards for "Little Angels," top fundraising teams, event t-shirts and much, much more.
How Angels Among Us Makes a Difference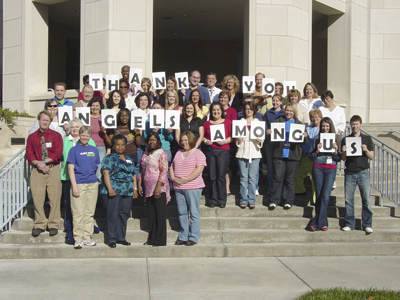 Funds raised through Angels Among Us, are quickly delivered where they are needed most in the fight against brain cancer. Since 1994, $22 million has been donated to The Preston Robert Tisch Brain Tumor Center at Duke from Angels Among Us. Your support of this event will help the Tisch Brain Tumor Center continue to lead the world in the development of new therapies, quality of life initiatives and innovative treatment techniques.
Proceeds from Angels have:
funded sophisticated equipment like a $400,000 laser drive flow cytometer and an immunohistochemical robot so that our researchers can develop the most effective therapies for each and every patient with a brain tumor.

been used to recruit high-level researchers to Duke to help in the development of new treatments for brain tumors. One of these researchers played a major role in Duke receiving a Specialized Program of Research Excellence (SPORE) award in brain cancer research from the NCI. It is only one of four awarded in the country and provides more than $10 million for brain tumor research at Duke.

been used as developmental research funds to support new projects that will ultimately be submitted to the National Institutes of Health to obtain additional funding.

been used as career developmental awards for our young investigators to help jump start their promising careers.

been used to purchase critical research and clinical investigation supplies.

supported basic, translational and clinical investigational personnel.

helped offset the 29% reduction in federal research grants so that our research efforts won't stall and will continue to progress.
Our success requires expensive equipment, optimal laboratory space, a large number of patients for our clinical investigation trials, and experienced, passionate faculty and staff to lead the research and provide the care. In these times of difficult funding, proceeds from Angels Among Us are even more critical.
Proceeds from Angels helped purchase a new freezer for use in our research labs. This special freezer holds a temperature of -190 degrees C, and is vital in the brain tumor research that we perform. It ensures the long term viability of frozen samples and stock that are stored for the use of researchers throughout the Center.
While there is no cure for brain cancer yet, the money raised from Angels Among Us has provided The Preston Robert Tisch Brain Tumor Center at Duke with essential expertise and technology to conduct the most advanced research and care for patients.
Thank you for your support of Angels Among Us, and for making a difference in the lives of our patients. Join us and be an Angel Among Us on Saturday, April 28, 2018.
Darell D. Bigner, MD, PhD
Director, The Preston Robert Tisch Brain Tumor Center at Duke